Individual Consultations
Telephone Consultations
$85.00 for 1/2 hour, $7.00 for tape (optional).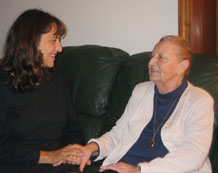 Mariane gives you messages from your loved one while you are in the comfort of your own home. These messages are as clear as if you were sitting next to her. There is no time or space in spirit so the connection is there, and the love and the healing are felt through the telephone.
In-Person Consultations
$165.00 for 45 minutes
As you sit with Marianne in this one-on-one consultation, you receive messages from your loved one. These messages bring you love and understanding. Marianne helps you find peace and a sense of oneness.
Bedside Consultations for the Dying
$100.00, includes follow-up consultation if needed.
Being a caretaker for a loved one at the time of their passing is difficult and draining, especially when your loved one is lingering. This is when a bedside consultation with Marianne can help you understand what is happening in the spirits' world to prepare for your loved one to join them. Marianne's work can help allay your stress and assist your loved one to release the hold of the tired body and continue his or her spiritual journey toward peace.
"From as young as I can remember, my grandmother always told me that when God closes a door He always sends an Angel to open a window. For me that angel was Marianne. Like many adult children, I had to take on the responsibilities of caring for my aging father. As his body and mind deteriorated, I felt completely helpless, alone and scared. I watched his mind slowly go into the darkness that is called dementia. I knew what he wanted was for his life to end but saw him fight out of pure fear of death. This is something I see every day as a nurse. This time, though, it was my family. We were the patients.

"I called Marianne, as I have done in the past, and we talked. She helped me understand what was happening with my father. She explained that even though his body was failing, his mind was in limbo. We talked about his past, his parents, his wife, his dog. Anything that would help him cross from life to death. In the last few days of his life, I showed him pictures of those he loved that had crossed over. I read to him. I told him it was ok to go. Marianne helped me help him; she saw his beloved dog waiting for him. He had never resolved the death of the dog and secretly grieved the dog's death. Through Marianne I was able to guide my dad to his dog and when the hour of death came, it was the most peaceful day we had had in two years. He smiled at what neither I nor my brothers and sister could see, and he drifted away. I couldn't be more grateful for meeting Marianne and for her help in my time of darkness."
M.I., Blackwood, NJ
Life Coaching for Those in Grief
$50.00 per session.
Marianne teaches you how to put your life back together. She helps you find peace, comfort and insight into why such heartbreaking events happen in our lives. The most remarkable part of this session is that your loved one guides Marianne in helping you move through the sadness that has filled your heart.
Animal Communication
$40.00 for 15 minutes, $5.00 for tape (optional).
One-on-one consultation to help you in your grief for a beloved animal who has passed. Marianne gives you messages from your animal friend and helps you come to terms with your loss.
Group Sessions
Message Circle
Call for pricing.
Host a message circle for your friends or family. One of the most incredible experiences is being able to communicate with your loved one in a circle of friends or family. Not only will you receive messages but you will feel the presence of spirit.
Marianne facilitates the connections with your loved ones, and messages from your loved ones are given through Marianne. There is a comforting sense of love, peace and resolution. Messages from your pets who have crossed over are included.
"I was privileged to be part of a message circle wherein I received a reading by Marianne Michaels. I can't put into words what a wonderful gift I received that evening, but I can tell you that the experience was so powerful that it changed my life forever. I have since hosted my own message circle and will continue to do so, as I feel it is important to share the experience of Ms. Michaels' gift with as many people as possible. If you are grieving the loss of a loved one, you too may want to open yourself up to the possibilities and receive the gift of your lifetime."
K. Brownstein, Philidelphia
"I have hosted many of Marianne Michaels' message circles. They are great! My friends come to them over and over to hear from their loved ones and feel the love. Marianne's accuracy is astounding. I'm looking forward to the next one."
C.S., Gilbertsville, PA
"I was truly amazed when I received messages from my husband and son. Marianne told me things that she could never have known. I can't get enough of the feeling of peace when I know they are well and standing next to me. The message circle eases the pain of everyday living."
Anita Curtis, Pottstown, PA
Minimum 10 people. For fewer than 10 people, please contact Marianne for pricing.
At-Home Open Discussion
$40.00 per person.
This session is for families who are having difficulties sharing their feelings with each other. Marianne facilitates a communication circle where family members can speak openly about the changes that have been forced upon them because of a death. For those who may not yet be ready for communication with the other side but are open for a discussion.
Lectures, Meetings and Workshops
Lecture: Afterlife Communication
$75.00 group rate.
Marianne lectures on afterlife communication. Free of charge to non-profit groups.
Meeting: Death Cafe
Third Sunday of the month at 4pm at Bethlehem Wegmans (2nd floor).
No charge – purchase at Wegmans is appreciated.
This is a group of people who meet to discuss all aspects of death and dying. We are considerate of all beliefs and respect every opinion. We are here to bring peace and understanding of life's greatest mystery and find comfort in our own immortality through our discussions and stories. Our discussions allow us to gain insight and solace in the memories of our loved ones' final days. Bring your curiosity and have a willingness to learn and share your thoughts, feeling and questions with other like-minded people. To learn more about Death Cafe please visit the website Death Cafe. Please be aware this is not a grief support group.
Meeting: Spiritual Grief Support Group
$20.00 per person
When the sadness overcomes every cell in your body and there are times when you feel there is no way out, there is a way to heal. The first step in healing is to connect with others who have had a similar experience and who want to grow spiritually. The next step to heal, is to connect with your loved one who has crossed over, this will help you to gain understanding and hope, to get you through each day. You will learn techniques to bring your life to a place of peace and to feel the love that still connects you to your loved one. I feel the work that I am here to do is to show you a way to relieve your pain, from the grief that you are feeling. Come join us and try the group, and I will gently guide you, within your own place of comfort to recover both spiritually and emotionally.
Workshop: A Second Chance to Say Goodbye
$100.00 per person for 6-hour workshop.
This workshop is a hands-on learning experience. Marianne will share her personal techniques for developing an understanding of the after life and the process of the soul. This will help you recognize the significance of your path on Earth. Exercises will be taught to help you learn how to communicate with your loved one. Everyone has intuitive abilities; but when you have someone you are bonded with on the other side your abilities are enhanced. You will also learn the signs that are sent to you from the other side, and you will develop trust to utilize your own intuitive abilities and find a new meaning in life and transform yourself in the process. You will find peace and realize that your loved one wants you to heal. After the workshop you will gain back your sense of oneness with your loved one and regain your confidence that the bond you share is still one. The love you feel when embraced by your loved one's spirit, is so healing that it cannot be explained, only experienced. Lunch is included.
Workshop: Intuitive Development
$100.00 per person for 6-hour workshop.
"We are all born psychic, but most of us lose our psychic abilities because they are discouraged or denied." In this workshop, you will meet your angels and feel their loving presence. Marianne shares her techniques for developing psychic abilities, accelerating spiritual development, and healing from the pain of losing someone you loved. Learn how to: develop, trust, and utilize your intuitive abilities; become aware of the energy fields around you; interpret spirit signs on a daily basis. Find new meaning in life and transform yourself in the process.
Workshop: Past Life
$100.00 per person for 6-hour workshop.
Have you ever felt that you had been somewhere or experienced something but knew you had not done so in this lifetime? This workshop will enable you to return to previous lifetimes and understand what happened in the past to make you feel the way you do now about relationships with certain people or animals. This knowledge will help you heal, and your path in this lifetime will become a smoother journey.
During this one day workshop Marianne will guide you through meditations to visit three different lifetimes and teach you to understand the correlation between then and now.
Workshop: Meditation
Meditation is a state of "perfect rest" this experience permeate every minute of your daily life. Through meditation you learn to quiet your mind to bring peace into your moment, which helps you live life at the fullest. The techniques of meditation allow you to feel the positive effects of correct breathing while recharging your body with energy. It can help you use breath control for vital health, and toward the restoration and strengthening of the energy flow in your body.  This natural healing, of restoring the power to your body can strengthen your own immune system, to help your work performance, and speed your clarity of thought.
Meditation affects the memory centers of your brain and helps with the decision making process. It may also relieve any unpleasant mental state your mind or body is in. When you meditate, your breathing is no longer labored. Your heartbeat slows down and establishes a good rhythm as your circulatory system evens itself out and you rid yourself of hypertension and stress and brings peace into your daily life.
Meditation also helps to manifest your desires and increase your intuition. Instead of trying hard and attacking your dreams by relying solely on personal willpower and strength, meditation creates a flow to fruition, an entrance to all that is good and beautiful. You are accessing a higher frequency that speeds up the results of your intentions, desires and intuition.
Marianne will teach different meditation techniques to help the beginner. The more advanced will be enriched as he/she spends the day in meditation.
Workshop: Astrology
$160.00 per person for 4 3-hour sessions, includes materials for your own natal chart.
Astrology is the practice of reading the stars. The alignment of the sun, moon and stars with the earth at the exact time of a person's birth is called the natal or birth chart.
The birth chart reflects our energies, talents, gifts, challenges and what we can potentially contribute to the world. The birth chart is a vehicle utilized to read these energies and assists us in decoding the patterns and energies that are themes in our lives. Astrology allows us to expand our understanding of ourselves and provides us with both the literal and symbolic meaning of our energy and energy patterns.
Astrologers are strong believers that a person's destiny is pre-determined at birth. Many people use astrology to help them understand themselves and their mates better, using their charts to enhance rather than rule their lives. Astrology is a guidance method that helps us to expand our understanding.
In this workshop you will learn to read a basic natal chart. In the first class you will learn about the sun signs and the planets. You will not just memorize them; you will learn techniques to recognize them when they show up in a personality. In the second class you will learn the placement of the signs and the planets pertaining to the individual chart. In the third and final class we will interpret each participant's chart.
Workshop: Understanding Spirit Communication for Children and Young Adults
$100.00 for 2 people (one child or young adult and one adult) for 4-hour workshop.
I have received many letters from teenagers and the parents of young children asking me why they hear the voices of spirits. Many are concerned and others just want to know why. This workshop will help young people understand the world of spirit.
I come from a background of Catholicism and have studied many different religions. This workshop is not geared toward religion, and you will be comfortable in this workshop with whatever faith you hold. You will learn how to shut down and control the communication or how to advance the voice you are hearing to a higher realm, to the voice of your angel.
There will be exercises in intuitive development and an introduction to meditation. Prayer is talking; meditation is listening. All questions will be answered, and, by the end of the workshop, both adult and child will come to an understanding and comfort with spiritual communication.
Workshop: Angels
$65.00 per person for 4-hour workshop.
We all have a guardian angel or spirit guide who walks with us on Earth. In this workshop you will learn communication skills. Marianne will answer your questions and help you meet your spiritual companion.
Scheduling
See Marianne's schedule page for events that are already planned.
If you would like to schedule a telephone or in-person session or host a workshop or circle in your area, please contact Marianne. Fees for lectures, workshops and circles may vary for locations outside the eastern Pennsylvania area due to travel expenses. The host attends the circle or workshop free of charge.
Payment
Major credit cards and personal checks are accepted as payment. Please make arrangements at the time you schedule your session.